About the Matrix Window
The Matrix window provides users with an exciting new view of the market including an innovative graphical display of market depth and trade activity for a given instrument along with lightning fast order execution with its one-click trading capability. This combination allows for unprecedented market feel and efficiency for the frequent trader.  

To create a Matrix window, click the Matrix

icon from the Apps tab, or use the Main File > New Application > Matrix menu sequence. A new Matrix window is displayed.

 VIDEO - Creating a Matrix and Editing Symbols

Layout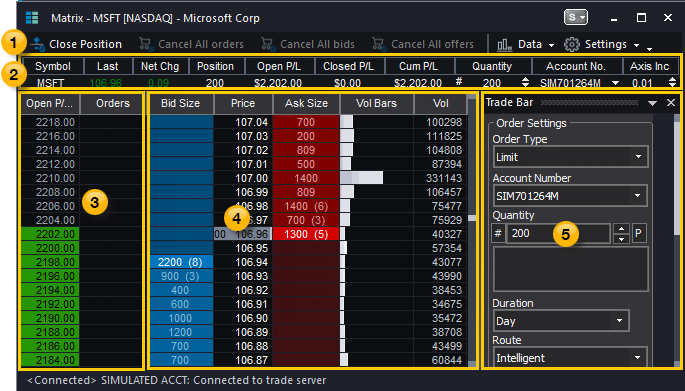 The basic sections of the Matrix window include:

Toolbar - Provides a text box for entering a new symbol, as well as drop-down menus and icons that control the features and settings of the window.

 Quote Bar - Displays basic price quote and position information at the top of the Matrix window for the selected symbol in the Trade Bar or Matrix Trade Bar.

 Price and Volume - Shows a color-coded display of the bid size, price, ask size, and volume as a visual identification of the day's trading range. Contains the days trade activity at each price level.

 Order Entry - Provides you with the ability to enter, cancel, or change orders using a one-click or drag-and-drop method. Also, includes Average Price and Position P/L information for viewing the average position price with associated P/L for open positions for the current symbol along with the symbol's VWAP (Volume Weighted Average Price) for the current session.
<![CDATA[ ]]>

Trade Bar and Advanced Orders - Allows manual entry of orders, including the ability to attach OSO and OCO orders.
Related Topics